List of materials used for Interior Design by Nitido
Your home is a masterpiece that is your happy place and your sanctuary. Your home is a reflection of who you are; visualized in shapes, shades, and textures. Your home is a canvas and the materials you use are the colours with which you bring it to life.
A top interior designer based in Mumbai, Nitido Design has created several visions for luxury interior spaces. Understanding the materials we use is crucial to turning those visions to reality. Choosing the right material is all about striking the right balance between functionality and aesthetic. The correct choice can be the key to creating beautiful and lasting luxury interiors. Be it choosing the best marble flooring or the perfect grain of wood – materials are the backbone of our design practice.
Having a deep relationship with the spaces around us has taken on a new meaning in the past year. Many of us spend more time indoors than ever before. Ushering in a new era, we want to create interiors with materials that reflect the profound connection we have with our homes. Here are our top 9 trending materials for luxury residential interior design for 2021.
Organic Materials: Bring nature into your home
2021 will be the year for natural, organic materials. Plastics and synthetic materials that are hazards to the environment are being phased out. Green materials such as wood, cane, clay, ceramics, and terracotta are being brought in. At Nitido, we are going back to our roots in modern residential interior design. India has a long history of using natural materials and indigenous construction techniques. Indian homes have evolved in response to the climate, topography, and cultural context of the environment. For generations, we used mud, sun-dried bricks, bamboo, stone, and other locally available materials. 
Traditionally, we have always had a conscientious approach to architecture and interior design. Nitido is bringing that back.
Wood
Wood creates a soothing and calm energy. We love this organic material for its durability and aesthetic. Our top choices in contemporary luxury interior designs are oak, mahogany, cherry wood, and bamboo. Oak is the most common hardwood in India and has high resistance to nicks, dents, and scratches, and high longevity. Cherry wood has a glossy and sanded finish and its natural dark colours only get richer with time.
For a regal and luxurious feel, mahogany is our go-to. It has an old school charm that creates cozy and sophisticated interiors. On the affordable end of the spectrum, bamboo is one of the better kept secrets of the luxury interior design world. This delightful material is naturally resistant to moisture and inhibits the growth of mold and mildew. It is perfect for getting through an Indian monsoon!
Cane
Eco-friendly, lightweight, and low maintenance – how can you not love cane! This versatile, sustainable material is often used outdoors in patio and garden furniture. However, it is time to bring it into your homes. We procure top quality cane products in chairs, beds, lamps, partitions, and much more. Our furniture and decor pieces are crafted with great skill by native artisans who have perfected the art of weaving cane. Cane infuses a home with authenticity and lightness, brightening up a space with its natural texture and solid colours. Whether you are going for a bohemian coastal vibe or a relaxed traditional environment – cane is a must-use material!
Clay, Ceramic, and Terracotta
Clay, ceramics, and terracotta are essential components to create a rustic, grounded home. These natural materials are durable, non-porous, and adaptable. We like to use clay and ceramic tiles in traditional ways such as kitchen and bathroom floors as well as surprising ways in walls and murals. They create an earthy feel and help maintain interior temperatures, which is useful in hot, sunny climates. Terracotta has a diverse colour palette ranging from rust brown to reddish orange. It is our favourite find for pottery, sculptures, and decorative artifacts. These natural materials add warmth to a home in a subtle and sophisticated way. Pairing them with soft yellow lighting is an effortless way of making your home more inviting.
Luxury Materials: A little glamour for your humble abodes
After having spent a year living and working from home, the world is slowly opening up. As it gets safer to socialize, we will be reconnecting with friends and family. Where better to do that than our own homes! We want residential interiors to reflect the joy and excitement this new era brings with it. Luxury materials create a sense of abundance, playfulness, and positive energy. Adding luxury materials to your interiors is a great way to complement natural ones. Ranging from the ubiquitous marble to mixed metals to opulent fabrics – let us give you a cheat sheet for transforming your home into a luxurious retreat.
Marble
Marble is the ultimate luxury statement. It brightens up and provides an instant facelift to any interior space. The real trick is to not over do it. We love marble as a flooring as much as the next luxury home designer.  Where we stand out is using marble in unconventional ways.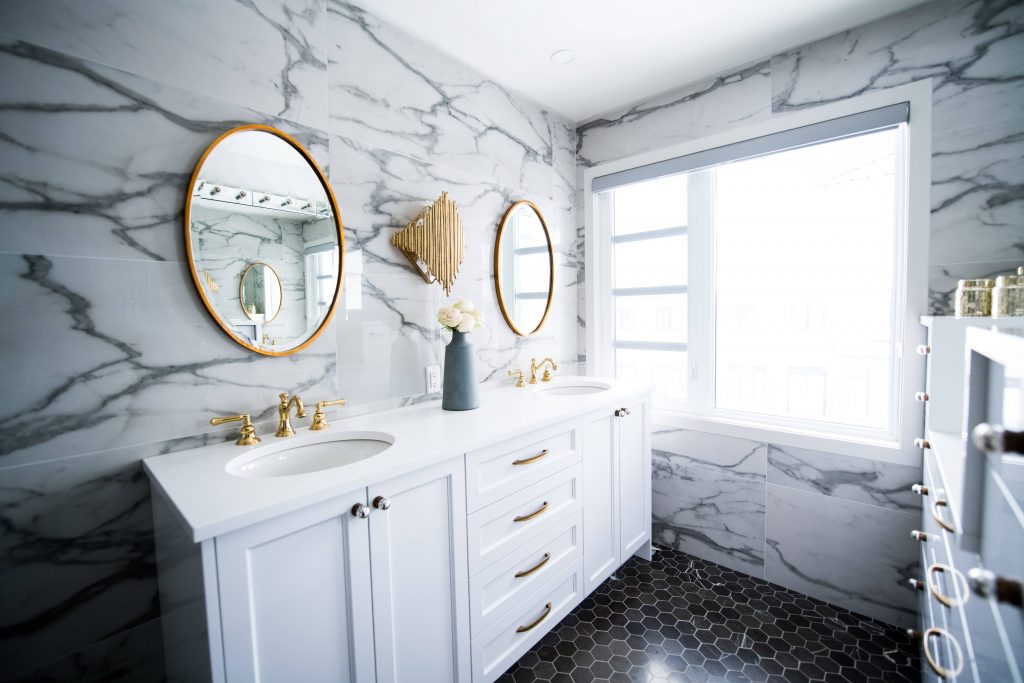 A clean and lavish marble backsplash in the kitchen fits right in with any neutral or lively palate. A black marble accent in a bedroom not only creates a focal point, but is also pocket-friendly. It adds a touch of opulence without feeling overbearing. We especially love using marble in Pooja and spiritual spaces in homes. Marble creates an air of peace and tranquility and is Vastu approved – what more can you want! Here is our comparison to know more – Marble vs Tile
Mixed Metals
The range of usage of metals in interior design is like no other material. It is malleable, flexible, and versatile. For luxury interior design, we like using bronze and copper to craft details that stand out. From decor items to sinks, from cutlery to beds, from lamps to coffee tables – warm-toned metals make a space feel laid back and sociable.
Metals also go well with just about anything! For commercial spaces, galvanized steel creates clean, sleek lines which is a staple in modern residential interior design, especially in urban areas ranging from Mumbai to Abu Dhabi. It also helps create an open, airy atmosphere by bending natural light, thus creating a workspace that opens the mind and lifts the spirits.
Fabric
Our design philosophy is all about balance. If we are using hardy materials such as wood, marble, and metal; we balance it out with luxurious fabrics. The right fabrics add softness, texture, and flow to your interiors.
Natural fabrics such as cotton and cotton blends are breathable, sturdy, and ideal in tropical places. A simple cotton table cloth or comfortable bed linens can go a long way in making the everyday feel special. Silks and satins are elegant and refined, perfect for upholstery and curtain work. Much like silk, wool adds a humble, grounded feel to a home, especially when used in woven rugs and mats.
Trendy Materials:
Natural materials and luxury materials have always been a popular choice. However, there are some new entrants into the list of top choices of materials for luxury interior design in 2021. The design world is leaning towards sustainability and ethical sourcing of materials. There are many innovative materials on the market that we are extremely excited about. Materials such as straw marquetry, parchment, cork, and concrete were popular in the 1920s. Now, nearly a century later, they are making a comeback. Developments in material sciences have given us options in repurposed and recycled materials and biophilic materials such as mycelium, an organic material made from fungi.
Cork
Cork can be a beautiful and practical addition to your home. An eco-friendly, sustainable, and biodegradable material – cork is truly exceptional! As flooring, it provides a soft underfoot and excellent heat and sound insulation. It is also naturally anti-microbial and resistant to mold, mildew, and dirt. Its warm hue and subtly dappled texture can do wonders as wall elements, bathroom accents, shelves, and study embellishments. It can be used as is in neutral interiors or dyed and painted for more eclectic ones. We are so ready to introduce this modern design wonder into your home!
Concrete
Concrete is not usually thought of as an interior material or a particularly decorative one. Well, we are here to change that. This highly durable and strong material is pliant, fire-resistant, and extremely versatile. It adds a raw and stripped-down vibe to any residential or commercial space. It can be used as floor panels, wall accents, and added texture on surfaces. Once refined, it can be turned into planters, pendant lamps, tiles, and even furniture. Since it lasts so long, it goes a long way in reducing your home's carbon footprint.
Recycled and Repurposed Materials
As one of the top interior design firms in Mumbai, we are committed to reducing waste and following sustainable practices. We love using recycled and repurposed materials. It is healthier for the planet and it has a story with it. For example, restyled antique furniture carries history and nostalgia and is perfect for a less-is-more interior design for a small house where every single element stands out. Distressed wood adds character to an interior and is used for doors, bed frames, bookshelves, side tables, and so much more. Materials such as tiles and stones can be upcycled into mosaic flooring and wall accents.
Are you ready to elevate your home with these incredible materials?