Designing a new home or renovating an old one is an exciting adventure. One that comes with many challenges and hurdles. But just like any good adventure, it will be well worth it in the end. As you embark on this journey, you need the right people beside you.
A homeowner faces many questions while thinking about designing a home. How do I want my home to look? What should my budget be? Should I hire an interior designer? Will they be able to help me create my dream home?
Nitido Design is one of the top residential interior designers in Mumbai. We understand the many concerns that come up for people as they build their dream home. Whether they are moving into their very first home or simply remodeling a small area in their existing one – designing a home can be a daunting task. We have been design exceptional homes with our special brand of luxury interior design for decades. Having seen many houses come alive, we know exactly why a luxury interior designer is crucial to that process.
Here are the Top 5 ways that a Luxury Interior Designer can help you build your dream home
Saves you money
It does sound counterintuitive that hiring a luxury interior designer would save you money. There are professional fees for hiring a top residential interior designer. These can be quite substantial in expensive urban areas such as Mumbai. However, there is a decided financial advantage to having a designing expert on your side. Firstly, an interior designer will be able to help you create a budget that works for you. This way they can ensure that all products,  materials, and services you use are within budget.
Secondly, an interior designer helps you avoid costly mistakes. Did you ever buy something that looked really good in the store? But it did not live up to the mark when you brought it home? This can happen with furniture, decor items, lighting fixtures, and even paints.
Instead of putting on three or four coats of paints on the wall while deciding a colour palette, let a professional do the work for you. Interior designers save you money by getting things right the first time.
Lastly, a luxury interior design of your home can increase its resale value by a large margin. If you are thinking about selling your house in the future, invest in it now. A well-furnished luxury house designed by a professional will boost its appeal with potential buyers. Taking that little extra step today will go a long way in helping your home stand out in a competitive real estate market.
Saves you time and effort
Designing a home can be a lengthy, intense process. It has many stages and moving parts that can be hard to keep track of. Especially if you are doing it along with having a full time job and other responsibilities. Hiring an interior designer will save you a lot of time and effort. They are masters of organization and coordination. An interior design team is trained to handle everything from budgeting for materials to delegating tasks. A home uses a lot of materials ranging from woods to marbles, from paints to fabrics. Luxury interior designers are experts on the different materials used in interior design. They can make sure that you use the best quality materials that are long lasting, cost-efficient, and aesthetic. Thus, saving you the time and effort to research this for yourself.
Trying to figure out the technical aspects of interior design can be a real challenge if you are a novice. Interior designers have trained extensively for years through school, apprenticeships, and work. They have a thorough understanding of the theoretical and practical aspects of designing a house. By studying a space, they can tell you what needs to changing in the form and layout of a house. It takes a trained eye to do that. If you are looking to break walls or redesign the structure of a house, it is best to employ a professional. They have the proper knowledge of safety practices and building codes. So, you can be assured that your home will be structurally safe and sound.
Gives you access to better resources
A huge part of being an interior designer is to work with a team. Hiring an interior designer gives you access to their teams and extended connections. For instance, Nitido Design has worked as a residential interior designer in several cities and countries including Mumbai, Pune, and Qatar, amongst others. We have a network of builders, electricians, plumbers, construction workers, artisans, and labourers in every city. These are people we trust to work on your dream home. We have developed these reliable connections through time and experience. It can be hard to parse through collaborators and workers on your own before beginning on your project. It can be even harder to coordinate with them once the project has started. A interior designer that speaks the language of design can take a huge burden off your shoulders.
Luxury interior designers also have access to resources that may not be available or known to the general public. Working in residential design, we have curated a list of brands, independent stores, and vendors that we love. Our long standing relationship with them ensures we get access to the very best items in their collections. An interior designer will be able to give you the top picks available in lighting, fixtures, decor, and more. This makes your home that little bit more unique and special.
Maintains Function and Aesthetic
Designing a home is a delicate balance between art and science. You want your home to look beautiful and aesthetic. You also need your home to function well as a living space. A living room should look welcoming and warm and it should also have ample seating areas, adequate natural light, and a good flow of movement. A contemporary kitchen should be a fun place to cook. It should also have enough storage, counter space, and areas for appliances. An interior designer can help you strike that necessary balance between function and aesthetic.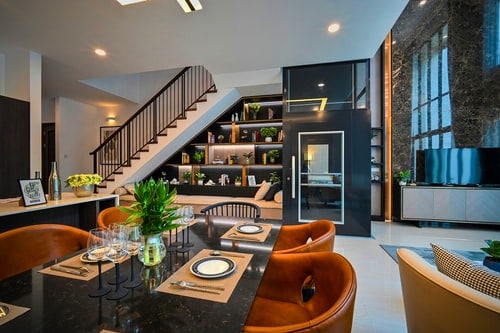 This becomes rather important in cosmopolitan cities which are famous for having houses with limited space. A homeowner in Mumbai can face quite the challenge designing a confined space without a trained residential interior designer. There are a lot of tips and tricks to designing a small house to make sure you make the most of the space you have available. Nitido Design has a lot of experience and expertise in crafting small luxury homes in urban areas. Our innovative ideas and designs can be very useful in creating a home that works for you and looks good too. A small house does not mean giving up on all the amenities and luxuries of your dream home.
Creates a home with harmony
As you must know by now, modern residential interior design involves many parts. There are upholstery and lighting fixtures to be decided upon. There are tiles and fabrics to be chosen. There are layouts, structures, and flows to be aware of. There are budgets and codes to be followed. A contemporary home is built up of many small details and varied elements. A luxury interior designer helps you create a connected home from all its diverse parts. They bring together the different design elements to create a cohesive visual picture.
Interior designers are masters of creative vision. They are trained to think in spatial and visual terms. They are able to weave in the different layers of a house to ensure they work together in harmony. Having a professional can help you infuse your home with a true synergy. They take all your different ideas and incorporate them to create a home with harmony.
Luxury interior designers turn your vision into reality
There are many practical reasons why you should get a luxury interior designer on board. They will save you valuable money, time, and effort. They give you exclusive insights into resources and networks. They offer designs and guidance to make your home functional, aesthetic, and harmonious. But above all, an interior designer helps you make your visions into reality.
As someone who will live and make memories in your home, you have a vision of what that will look like. As an interior designer of luxury homes, we are here to make that vision come to life. We tack on our technical expertise to your ideas and give them physical shape and form. We work with you and build on your initial concepts. We use our artistic abilities to create an aesthetic that resonates with your personality. We help make the dream of your very own home come true.
Want to know more about how Nitido Design can help you craft your dream home? Reach out to us, we would love to hear from you and help you in any way we can!