Owning a property is always a preferred option, but with Mumbai property prices being as high as they are, more and more people are opting for renting a flat. So how do you make your rental apartment into a place you actually want to come home to? There are quick and easy home décor ideas to add style, taste, and class to your space without breaking the bank (or your rental agreement).
Wall Treatments
If you plan to stay in this home for a few years, invest in the wall treatments. Texture paints and wallpapers are great for adding a luxury touch to the otherwise plain home interiors at a minimal cost. Some of our favourites are concrete finishes which work well for a hip and modern look or stucco finishes with a slight sheen. These give a rich and luxurious backdrop to furniture as well as artwork If your landlord is going to paint the place before your move, offer to chip in and get a good texture wall paint or wallpaper which will be easy to maintain (most are washable) and look fab.
Decorate Your Walls
Large empty walls look forgotten. If you want to have a more polished look, plan a décor piece for each wall area. This is especially important for living room interior design. Wall décor pieces can be anything from a large canvas artwork to a photo collage, a statement clock, or a massive mirror. Don't have the budget for real artwork? You can purchase beautiful art prints which will come framed and ready to hang. Alternatively, you can download high-resolution stock images for free and have them framed at the local frame store. Lastly, when it comes to creative interior design, don't be afraid to personalize. Throw in some of your favourite photos from holidays, parties, and major events in your life. After all, it's your home.

Throw Around Some Color
As interior designers in Mumbai, we always recommend having new custom furniture pieces, even in a rented home. This way they will fit perfectly in the new space and you'll have maximum flexibility in terms of style. If you're planning to get new furniture, that's great. It will really enhance the look. Choose modern furniture pieces in neutral colours as the foundation of the design and then add colour with cushions, rugs, art, and other loose décor items. By keeping the major design elements subtle, you will be able to change the colour scheme and update your home on a regular basis without having to make major home interior design changes.
Some other living room décor ideas include using a single furniture piece as accent. Upholster a chair or sofa in each furniture arrangement with a bright color or print. Any color you like is fine. Try turquoise, royal blue, mustard or olive green.
Add Mirrors
Another great way to fill up the walls and make your home feel more spacious is through mirrors – the bigger the better! As urban residences are quite compact, this is an important strategy for opening up the space. Consider the following home décor ideas: lean an oversized mirror against the wall near the dining table (It's also good vastu) or hang a large mirror above the sofa. You really can't overdo it with mirrors in contemporary interior design. Consider playing with different shapes and combining small mirrors to make wall designs. Full height mirror panelling can also visually open up the space and make that tiny apartment feel twice as big.

Upgrade Lighting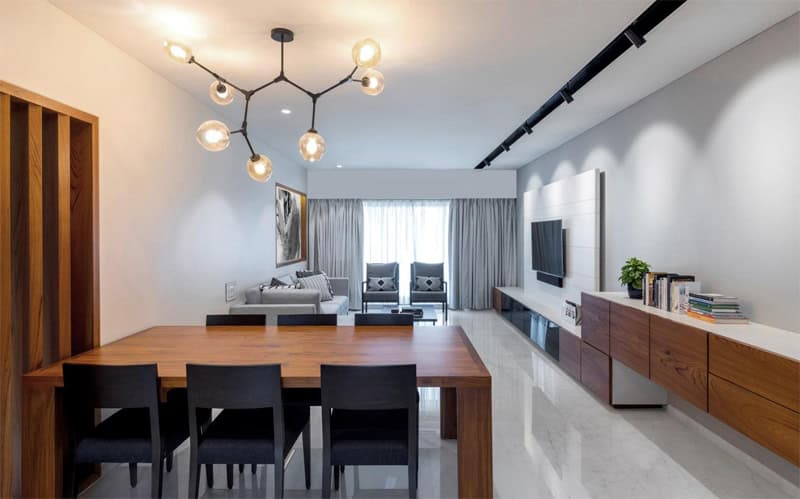 We've used a combination of recessed spotlights, concealed track light and modern chandelier above the dining table for a minimal contemporary look in this Santacruz apartment.

This is a big one. Better lighting can make a huge difference to your home interior design. If you have a false ceiling, add recessed LED cob lights with reflectors. These provide the best fall of light and illumination to the space. Consider adding at least one statement light fixture in each room. This can be a chandelier, wall sconce, or floor lamp.

Most importantly, when buying your fixtures specify the color of the light to be warm white (3000K) or daylight (4000K) in all areas. LED lights are whiter than halogen bulbs, so even warm white will not give a stale yellow effect to residential interiors.